Getting OneTest is easy
OneTest, like other routine blood tests, requires a physician's authorization.  After you purchase your OneTest kit, you will need your doctor to sign your test order form.
Purchase your test collection kit online.  Your kit should arrive within 5-7 days and contains everything you need to ship your specimen to our lab including a test order form for your doctor to sign.
Review the instructions and forms and make an appointment to see your doctor.  Your OneTest order form must be signed by a licensed medical professional.  Your doctor may be able to draw your specimen from their office or you may need to use a commercial lab to provide that service.
Have your blood specimen drawn and packed up with ice packs.  Your test must be shipped via FedEx so it arrives to the lab the next day.
Our lab will receive your sample and analyze it using our OneTest panel of protein biomarkers.
Your results will be ready in about 1 week.  They will be sent to your doctor and can also be viewed online through our secure customer portal.  Your doctor will review your results with you.
Due to the nature of OneTest, you may only order it for your personal use. If someone you know wants to use OneTest, please have them order for themselves. Thank You!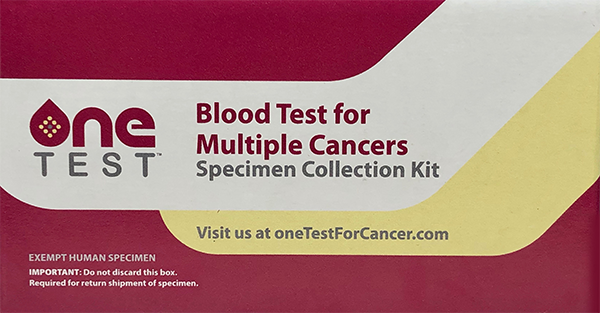 OneTest is a new blood test for multiple cancers which can help identify cancers at early, more treatable stage. OneTest is not a genetic test. It looks at biomarkers, known as tumor markers (also called "cancer markers") which are associated with various types of common cancers.
To order via phone, call: (302) 663-8378.
Available from 9am to 6pm Eastern.
You must be 18 years of age to order OneTest