The Future of Cancer Detection is Here
Get tested for multiple cancers with one simple blood test.
Schedule now and get screened at one of the participating Urgent Cares
$189 Use promo code urgentcare20 and get 20% off
OneTest is powered by A.I. technology
OneTest can help with early detection of lung, liver, pancreas, and other cancers that are not widely screened for in the United States.
• built with a vast database of about 42,000 individuals
• powered and validated by real-world data
• easy & painless blood test 
According to the American Cancer Society, a person's lifetime risk of getting cancer is almost 40%
With lung cancer, survival rate for stage 1 cancer (while still small and confined) exceeds 90%
If lung cancer advances to form multiple, distant tumors, survival rates fall to below 1%
Our mission is to help reduce cancer deaths around the world through early detection
The OneTest algorithm uses machine learning, a form of artificial intelligence (AI), in which a computer system has the ability to continually process and incorporate new data and thus improve accuracy over time.
By providing us with outcome data from patient follow-up subsequent to the OneTest, real-world experiences can inform further development and fine-tuning of the OneTest algorithm and continuously improve the accuracy of the test.
Schedule now and get screened at one of the participating Urgent Cares
$189 Use promo code urgentcare20 and get 20% off
Total Access Urgent Care
9740 Traville Gateway Dr, Rockville, MD 20850
Richmond Urgent Care (soon)
1770 N Parham Rd #100, Richmond, VA 23229
You can order your OneTest online
$189 Use promo code onetest20web and get 20% off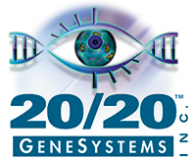 20/20 GeneSystems developed OneTest for Cancer
• awarded more than $6 million in government grants and contracts from the National Institutes of Health (NIH) in support of cancer diagnostic technologies
• 7 issued patents with numerous patent applications pending worldwide
• raised over $7.5 million in private investments and an equivalent amount through numerous government and private grants